InSport
The InSport project: Sport Inclusion – Full Participation in Sport by Persons with Disabilities is co-funded by the European Union under the Erasmus + program and took place from January 2018 to June 2020.
This project focuses on promoting the full participation and social inclusion of people with disabilities in and through sports, physical activity and the promotion of healthy living habits; through the development of a European model for inclusion.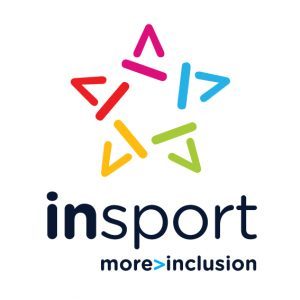 Sport Inclusion
This project intends to increase the active and effective participation of the target group in the practice of sports and physical activity, aiming at the:
Research and formulation of recommendations for inclusive practices, providing a model for the inclusion in sport by people with disabilities
Stimulation of social and sports participation, of personal and social development
Training of technicians for cooperation between areas (health, education, clubs and municipalities) and their professional qualification for inclusion
Develop the role of promotion and encouragement of physical activity and the adoption of healthy lifestyles
Create a knowledge platform accessible to all
Stimulate volunteering and active participation in society and sport, as expressed in the EU guidelines on social inclusion and equal
The output of the project
Guide to the analysis of good practice at national level in the field of inclusion through sport
Guide (s) for the development of the European Model of Inclusion in Sport
Guide (s) of intervention support material (adaptation and / or construction)
Elaboration of a common training curriculum
Specific website of the project
Guide (s) of actions promoting the inclusion of people with disabilities in the sports field
It is intended that the InSport Project will have a strong impact in promoting the full participation and social inclusion of people with disabilities in and through physical activity, allowing the promotion of strategies that increase opportunities for the participation of people with disabilities in the community.
Project organisation
The project is coordinated by the APCAS-Cerebral Palsy Association of Almada Seixal (Portugal) and has different partners:
European Paralympic Committee [EPC] (Austria)
TAFISA-The Association for International Sport for All (Germany)
UNESCO Chair, Tralee Institute of Technology (Ireland)
Portuguese Institute of Sport and Youth (Portugal)
Knowledge Center for Sport & Physical Activity (The Netherlands).
More information or support?
Also interesting:
We cooperate with partners in Europe in several EU-funded projects. By cooperating with partners on global or European projects, we aim to strengthen and deepen our knowledge. On international level, we cooperate on a bilateral basis with organisations.
Europe in Action Europe in Action undertakes an innovative and specialised approach to transfer fundamental and topical European key policy…
Keep Youngsters Involved How can we prevent youngsters (age 12-19) from dropout from sport? The project Keep Youngsters Involved aimed…