About Sport in the Netherlands
Sport is front of mind in the Netherlands. It is a sporting and active country. We have a large number of local sport clubs run by involved volunteers. Football, swimming and tennis are popular amongst many. And at the same time a vast number of adults and children cycle to work and school everyday which makes us a physical active country.
The Netherlands is a country where we aim high, to be in the top 10 of elite sport rankings. And at the same time we are striving to make it possible for all to participate in organised or unorganised sport and physical activity.
Sportfolio International
In the Netherlands, Dutch sport institutions, sports scientists, sports clubs, academia, companies and the government work together in interesting projects. They believe that everybody should be able to enjoy the power of sports and exercise. In recent years, representatives of foreign governments and companies have been looking for opportunities to cooperate with Dutch parties in the field of sports or sports science.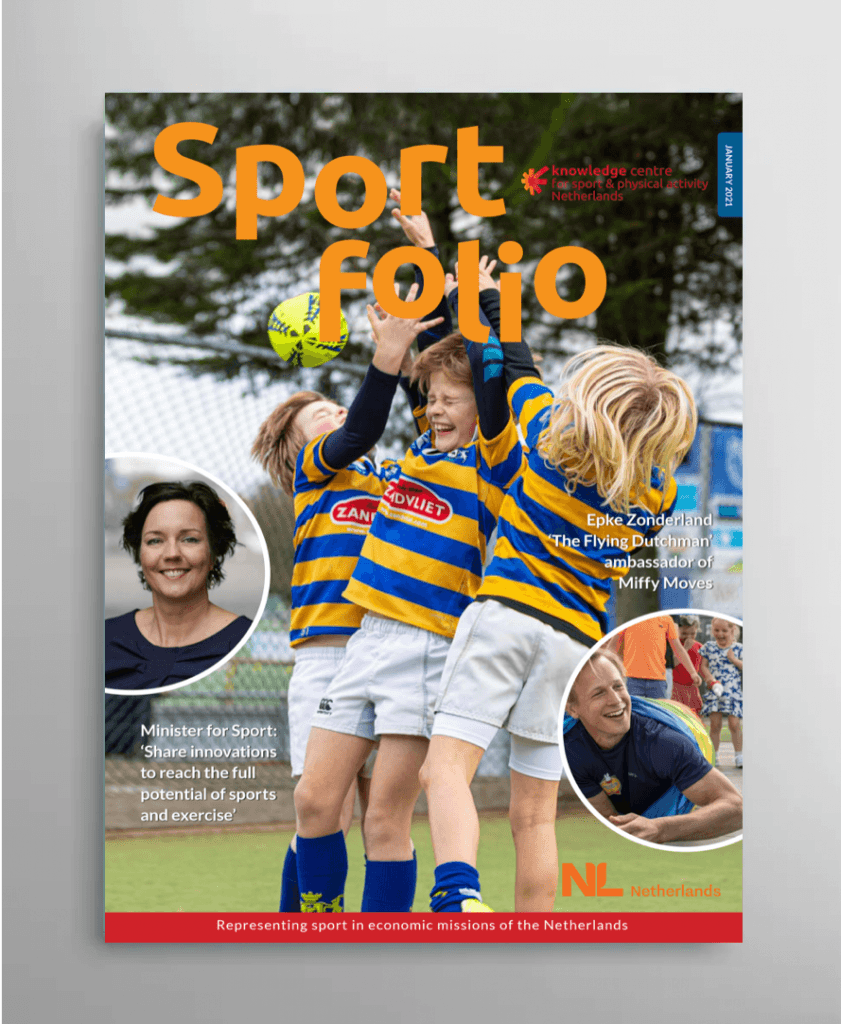 Sportfolio Magazine
Browse through the Sportfolio Magazine -edition 2021- to find a broad and diverse selection of national programmes and policies, exciting innovations and successful projects that have international ambitions.
Sportfolio showcase
The Sportfolio showcase presents an overview of projects brought together by the Knowledge Centre for Sport & Physical Activity Netherlands. These projects are showcasing opportunities for other countries and companies to join forces. Hopefully this overview will inspire many new and succesfull international partnerships. Browse through the menu to find a broad and diverse selection of national programmes and policies, exciting innovations and projects.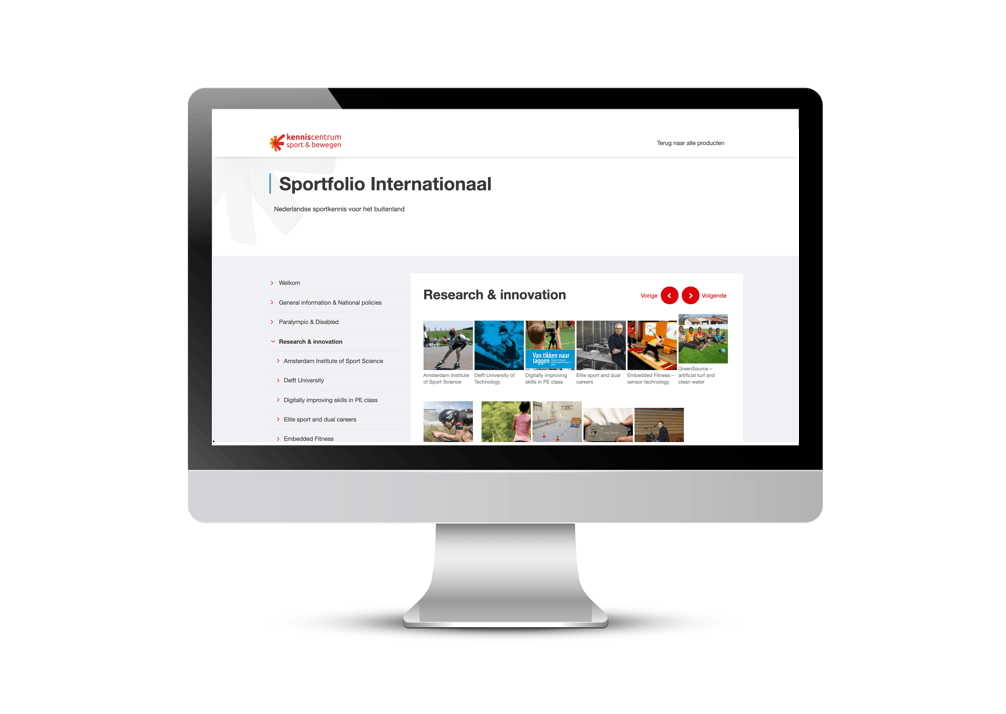 Sport unites people,
and sport unites the Netherlands
The National Sports Agreement
In June 2018, the Dutch Minister of Sport concluded the national sports agreement with sports, municipalities and civil society organisations and companies. Local sports agreements now have to ensure that within municipalities every Dutch person can exercise for a lifetime.
The idea behind this Sports Agreement is to make sport enjoyable for everyone. Truly everyone. Now and in the future. Without any restrictions. In a safe and healthy environment. As a sportsperson, volunteer or spectator.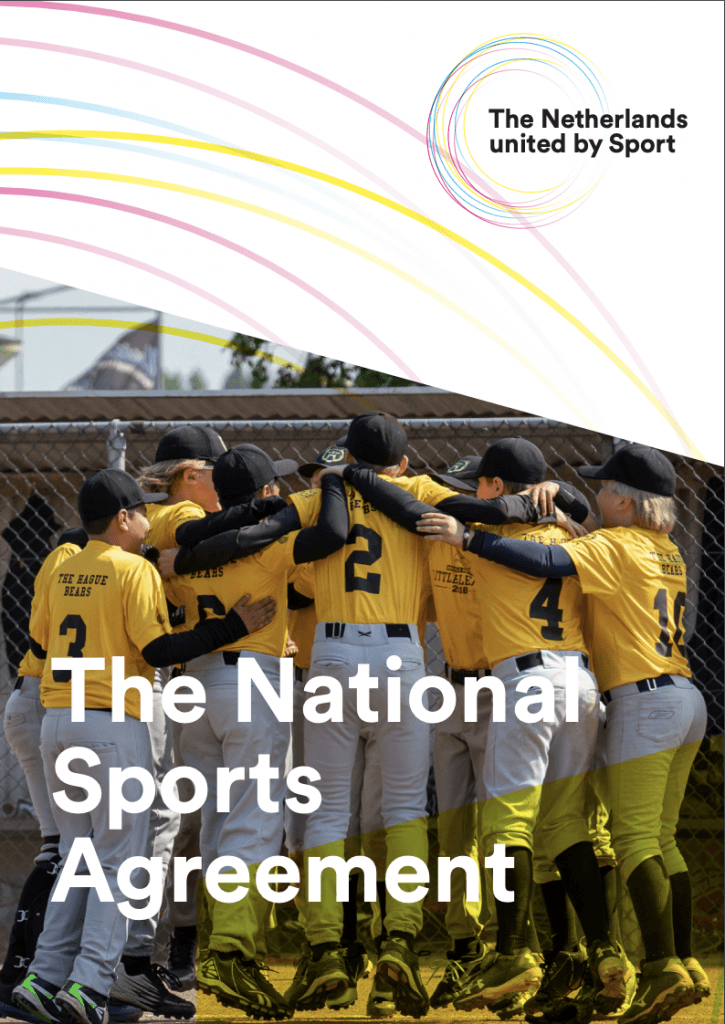 The National Sports Agreement contains 6 ambitions:
Inclusieve sport
Sustainable sport
Vital providers
Positive sports culture
Enjoying exercise from an early age
Elite sport
In order to realise the ambitions laid down in the Sports Agreement the government is investing over € 400 million every year up to and including 2021. The provincial authorities, municipalities, the sports sector itself, social organisations and the business community are all contributing funds to help achieve the ambitions in the Sports Agreement. Their investment will be several times the annual contribution by the national government each year.
For more information: download the summary of the National Sport Agreement in English.

Guide to Sports and Physical Activity in the Netherlands
This guide, issued October 2017, contains facts and figures about physical activity and sports in the Netherlands. It contains an overview of policy programmes, projects and good examples in sport and physical activity in the Netherlands.
Participation in sport
More than half the Dutch population participates in sport on a weekly basis. Fitness training and running are the most popular sports among adults. Government interventions at the level of neighbourhoods, primary schools, secondary schools and sports clubs are intended to persuade more people to take part in sport and exercise, and to support this in a healthy and responsible manner. The sports sector employs 150,000 people, and one and a half million Dutch people volunteer in sports clubs and associations every month.
In terms of sport, the Dutch pride themselves on their strong traditions, especially in swimming, football and speed-skating. The country always aims for a top 10 position in the Olympic medal tables.
With 17.1 million inhabitants and 34,000 km of land, the Netherlands is one of the most densely populated countries in the world. With the sea and a multitude of lakes, rivers and canals close by, water is a crucial element of Dutch society and thus; sports.
The Guide to Sport and Physical Activity in the Netherlands has been issued in 2017 for the first time. It is available for every organisation that needs an overview of the facts and figures of sport and Physical Activity in the Netherlands. It shows a wide variety of policy programmes, projects and good examples in sport and physical activity. At any time, we are available for questions concerning this guide and the information in it.
Would you like to know more about us? Please contact us

Keep Youngsters Involved
How to prevent younsters (12-19 years) from dropout from sport.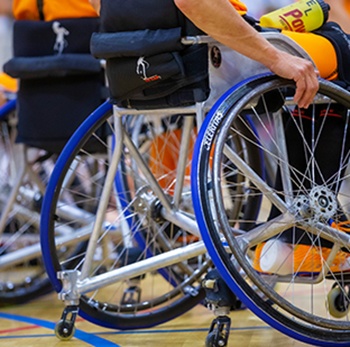 Insport
Promoting the full participation and social inclusion of people with disabilities.

Europe in action
Translating European policy into prioritie sfor practical action.